With all the fires ravaging Australia, including our little slice of The Snowy Mountains – it is so hard to not get consumed with the mass onslaught of devestation and heart-break.
However, turns out that Mateship is alive and well with everyday Aussies helping out and supporting those in need- from heroes fighting on the frontline, volunteers working around the clock to sew pouches for injured wildlife, the financially poor giving up their last dollar to support those who have lost everything, to teenagers filling up their car with injured koalas that they have rescued from the fires.
It is both humbling and heart-warming to witness these acts of kindness that shine a little light into the darkness. Today I want to take a moment to celebrate both the "Mateship" of the Aussie spirit and the kindness of strangers from all across the globe. During these hard-times it is overwhelming how many people, organisations and businesses drop their own needs and respond with light and love to the heart-broken and displaced, as well as to all the animals, the wilderness and the fire-ravaged ecosystem with selfless-ness and kindness.
There are many theories as to why the bushfires have been so bad this season. However with the beautiful iconic Australian bush charred black, whilst people and animals have lost their homes, lives and livelihoods, the focus no longer becomes about what is the cause but how we can heal from it. Whilst the destruction is devastating, heart-breaking and quite frankly the thought of getting things back to normal feels quite overwhelming  – after all so much has been lost. However, call me naive but I believe that Australia, its people and the bush will heal from this. With the overwhelming acts of kindness shown during this hard time – just maybe we will become a new and better Australia. Maybe all the kindness we are all witnessing has the power to heal Australia – just like The Butterfly Effect.
The Chaos Theory [also known as the butterfly effect] is often used by many when comparing the natural world and our human effect on it. Edward Norton Lorenz once said  "If the flap of a butterfly's wings can be instrumental in generating a tornado, it can equally well be instrumental in preventing a tornado."
During his career Mathematician Edward Norton Lorenz noted, in what was dubbed the 'butterfly effect,' the extreme sensitivity to initial conditions meant that the flapping of a butterfly's wings over the Amazon could influence the weather in China. This phenomenon, pioneered by Lorenz and others, has found widespread application as deterministic chaos.
He strongly believed that one small action can have unintended large consequences, in a theory that applies to meterology as much as it does to biology, physics and geology.
I can't help but wonder what kind of world we would live in if everyone was conscious of their own actions and the effects it has on the world that they live in. Is it too late to change our actions? Has the damage already been done -especially when it comes to climate change issues?
I would like to think that the butterfly effect or chaos theory not only applies to everything that is wrong in the world – but is also the guiding force behind everything that is good in the world. I think all the acts of kindness displayed during these Australian bushfires have shown us hope for a kinder and brighter future for humankind, animals and the planet.
There is no question that for many of us we have been humbled by the acts of kindness we have witness during the current Australian bushfire season. I would even go as far as saying that for many of us we are questioning our own lifestyle choices, values and way of living. Maybe the devastation of the current Australian Bushfires is both a lesson and an opportunity to revalue and redo our everyday choices. Maybe it's time we all took individual ownership for the world around us, choosing to step up and leave only a positive impact on where we choose to walk and how we choose to live – whether that means moving to more plant-based meals, prioritising and valuing organic farming, buying local and seasonal foods, reducing energy consumption, composting, recycling, choosing kindness over our egos or dropping all the excess and mindless consumption. Every action of our lives is all part of the Butterfly Effect.
Heart-Warming Moments During The Australian Bushfires that prove Mate-ship is still alive
CIRCLES OF SEWING BEES CRAFTING FOR OUR WILDLIFE
A legion of crafters armed with sewing machines, knitting needles and crochet hooks are gathering in halls and shops across the nation and the world to make joey pouches, koala mittens and bat wraps for  wildlife injured in the bushfires. So far the fires have killed over 1 billion animals and wildlife organisations, carers and wildlife hospitals are inundated with injured wildlife. There are various sewing groups contributing and some are sewing and knitting in 18 hour shifts – and I must say the pouches are ever so cute. One of the big organisations is Animal Rescue Craft Guild – a visit to their Facebook page is highly recommend for a little cuteness therapy.
A CAR FULL OF KOALAS
During the bushfires on Kangaroo island some teenage cousins [and possibly their parents – I'm not to sure] went out on a saving koala crusade – where all that was needed was a car and a little kindness.
Posted on Reddit, @Steve_OH wrote: "Amid the terrible bushfires in Australia, my cousins went out and saved as many koalas as they could. Good on em. Thought reddit would support and appreciate their efforts!"
[pexyoutube pex_attr_src="https://youtu.be/EpnKrlbgASk" pex_attr_width="1200″][/pexyoutube]
WE OWE YOU MILK
It is good to know that firefighters can still find a little time for some humour despite the challenging and often life threatening situations they find themselves in.
In November, firefighters with the Urunga Rural Fire Service saved the home of Paul Sekfy in New South Wales. As they were leaving his home to continue fighting the fires they left him a little note on the kitchen table that read "It was our pleasure to save your house… P.S. – we owe you some milk".
Paul got such joy from this note that he posted a picture of it on Facebook, saying is was "the best note on my kitchen bench since the morning after my wedding".
The post was shared a lot and eventually went viral, with the firefighter who claimed to have authored it, Kale Hardie-Porter, commenting on Facebook: "I'm happy to know my note got to you in one piece! We took refuge in your house and that's when we discovered the fridge. It was our pleasure to do a little good in such horrendous conditions".
PENSIONERS DONATING
In Australia we all know that many pensioners are living pay cheque to pay cheque. After the bills are paid they may have a little money left over for a dinner at the local bowls club. I read a short story in an online news article [sorry can't locate it now] that a lady from Canberra was seen by a stranger giving up her last $50 from the pension to donate to the Bushfire Appeal. I believe her story isn't rare – there are so many people who live with very little who are willing to go without so that they can give to somebody in need. As Anne Frank said in her diary "No one has ever become poor by giving."
LOCALS TAKING IN STRANGERS
The page is packed with offers of spare beds, as well as kindhearted posts from people without accommodation space who are still offering to help in any way they can. From the man volunteering to clear people's gutters to help asthmatics, to the woman opening her home for "showers, a cuppa and a cool drink", the generosity keeps on coming.
KOALAS HUDDLE INSIDE A HOME
This is one of the pictures going viral that brought the biggest smile to my face – I love it so much that it is currently my phone screensaver.
Janelle Michalowski posted picture of Koalas in her home [one of the pictures at top of page] to thank firefighter Adam and the gang for rescuing these guys, a post which has now been seen millions of times around the world.
Janelle explained that in between trying to save local homes in Cudlee Creek in South Australia, a firey named Adam paused to rescue the several marsupials.
"Amazing work by a man named Adam and his mates who pulled these guys out of harms way at Cudlee Creek and into safety!" she wrote.
EVERYDAY PEOPLE SUPPORTING BUSINESSES AFFECTED BY THE FIRES
It is amazing how many people I have talked to over the phone who want to take a road trip to the bushfire affected regions just to bring support and hope to communities affected by the Australian Bushfires. Conscious travellers are choosing to take 6-7 day road trips through the Snowy Mountains, South Coast, East Gippsland and Victorian Alpine Regions [Many are also going to Kangaroo Island]. Now being dubbed "the road-trip that has a positive impact" the intention is to stop in and support local motels/B+B's, cafes, gift shops and so forth. Maybe even a stop off for a little volunteering such as planting trees for animals or helping to clean up the debris. These conscious travellers are all about the local experience so immersing themselves in a local yoga class, church service or art workshop is certainly top on their list.
This new breed of conscious travellers [impactful travellers] are bringing with them new hope, light and life breathed into areas where bushfires have extinguished life.  And for those that cant make a road-trip – they are choosing to shop online at local businesses affected by the bushfires.
PEOPLE COMING UP WITH CREATIVE WAYS TO HELP
We all agree that the amount of money donated to various charities far exceeds what anyone would have dreamed up – people all over the world a giving money in droves. It truly is amazing. However, there are also acts of kindness from so many everyday Aussies, just a few things I have read of people doing:
Giving up rooms in their house to strangers
Cooking free meals for anyone who needs them
Donating supplies and driving them to affected towns
Coming up with fund-raising events such as raffles, concerts, fairs, market days and so forth
Small businesses donating 100% of their proceeds for a day or two
People caring for wildlife
Auctioneering off unique items to raise money
RESTAURANTS GIVING OUT FREE FOOD
Restaurant owner Kanwaljit Singh has teamed up with the not-for-profit group Sikh Volunteers Australia to cook and distribute free food for those affected by the fires.
Singh and his team are busy cooking huge batches of rice, flour and lentils from their base at The Desi Grill in Bairnsdale, Victoria.
"Many people have lost their homes and farmhouses and they are forced to live in temporary shelters and camps," he told SBSPunjabi. "We follow the Sikh way of life. We are just doing what other Australians are doing today, and that is to serve and pray for the people who have been hit hard by these terrible bushfires.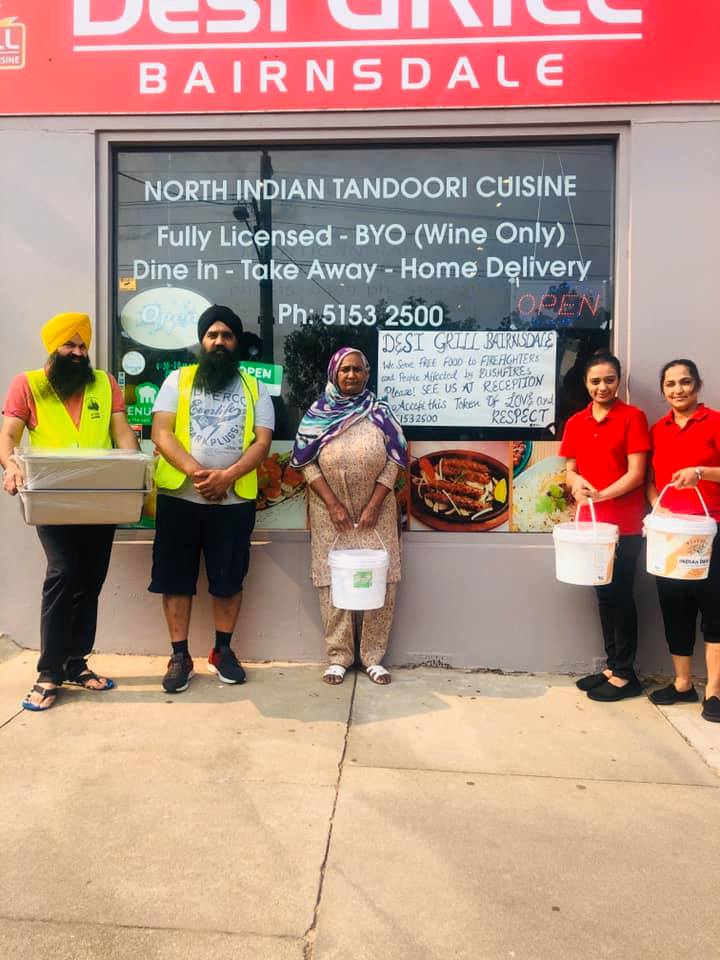 KOALA RESCUES
No list would be complete with out adding Patrick Doyle who is famously known for rescuing 9 Koalas from Mallacoota fires. Patrick has been going out on his own to find injured and struggling koalas on the outskirts of Mallacoota, which has been devastated by bushfires. He said that all rescued nine animals have survived and are rehabilitating at Mallacoota Wildlife Shelter.
Plus the heartbreaking rescue from a woman in Port Macquarie where the koala was covered in burns and unfortunately died in the Koala hospital days later.
[pexyoutube pex_attr_src="https://youtu.be/-gELJh2x_no"][/pexyoutube]
Did you know that in the bushfire effected areas wombats are chauffeuring various animal species into safety – by inviting them to take refuge in their burrow. After all the burrows are quite deep and one would think relatively safe from the heat of the fires. Besides – wombats are just the helping kind of creature.
This story of wombats leading other animals to safety was in the headlines quite often. Ok – whilst it is not true and is infact fake news – it does bring a smile to your face and makes for a great way to end a blog post that hopefully warms the heart a little.